If you only visit the Broads once a year this is the time to come.  The waterways are full of birdlife busily rearing their adorable young in the spring sunshine.
Perhaps one of the most amusing sights is shown in the picture below of a duckling being raised by a family of greylag geese at Irstead Staithe near Barton Broad.  One of our crew members, Marilyn, who lives by the staithe explained: "A pair of greylag geese have been raising a little duckling alongside their goslings for the last couple of weeks.  It's really cute and the mother goose seems quite unaware that the duckling isn't one of her own goslings despite the size difference!"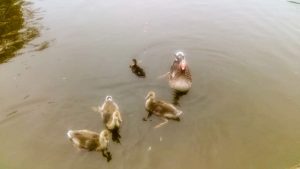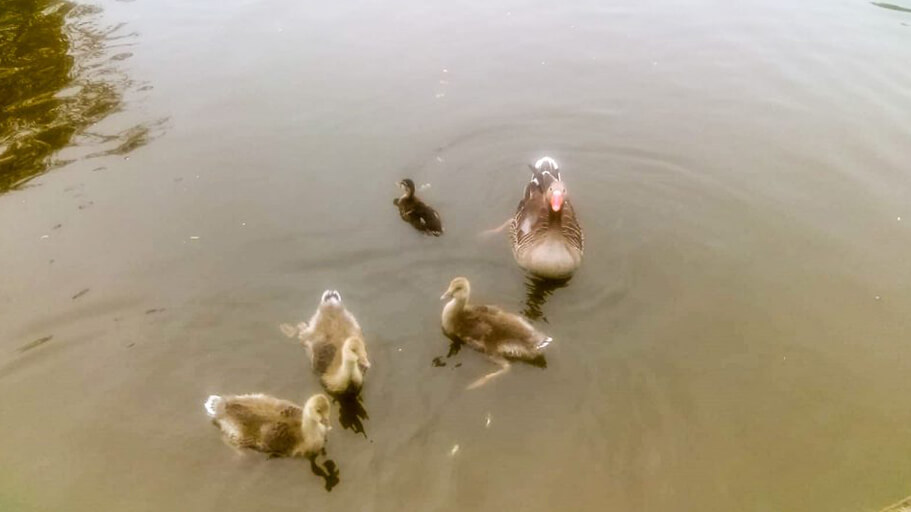 This picture certainly deserves a good caption.  Skipper Tom suggested "What the duck!".  If you have any better ideas we would love to hear them! (Send your suggestions to info@broads.co.uk)
Back near our base in Wroxham, we have two families of adorable little cygnets delighting boaters alongside scores of ducklings and families of Greylag, Canada and Egyptian geese goslings.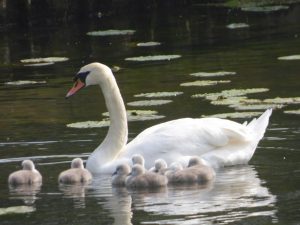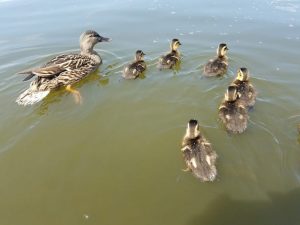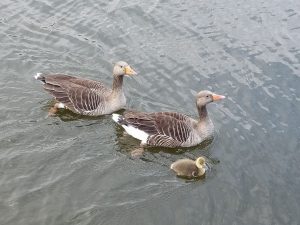 Perhaps our favourite place to spot young birds at the moment is Salhouse Broad.  There are lots of families of great crested grebes carrying their adorable little 'greblets', which have black and white stripy faces, around on their backs.  Other than looking super cute this protects their young from predators such as pike grabbing them in the water.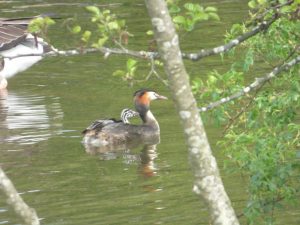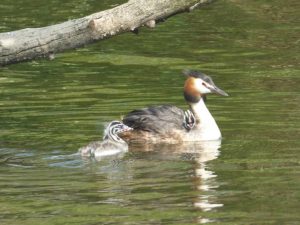 Two more great crested grebes are still incubating their eggs on floating rafts near the downstream entrance to the Broad, so we are eagerly awaiting more new arrivals!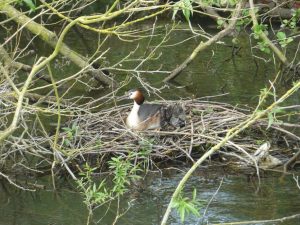 The reason that these birds are still nesting is that they had their initial nests destroyed.  Undeterred they built another floating raft for their eggs and this are going well this time!
Another bird that builds floating nests is the coot and we are also enjoying spotting their cootlings with fluffy bodies and brightly coloured beaks.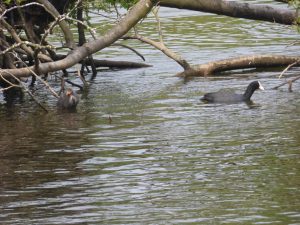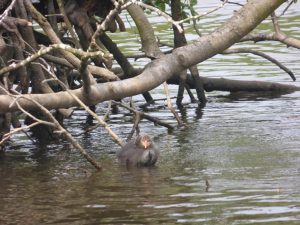 Better still we have been enjoying regular kingfisher sightings in the area, not only as an electric blue flash as the birds fly fast and low over the water, but also perching on branches where passengers can get a good look at them.  On several occasions there have been two kingfishers perching together on a branch and diving into the water to catch fish.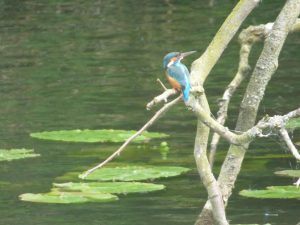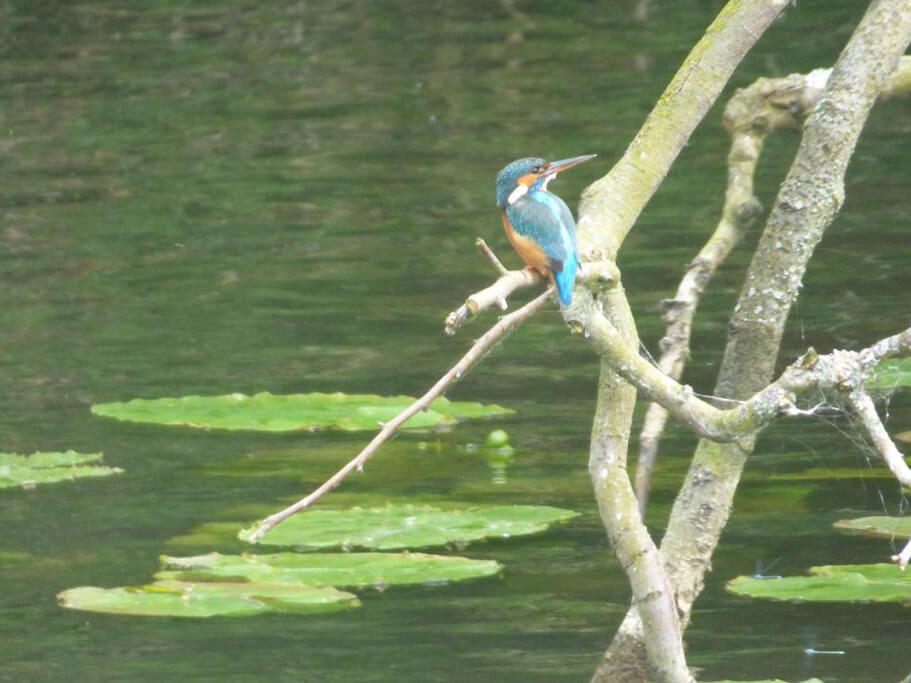 Our customers are also loving spotting otters on a regular basis and we have had some amazing encounters with them recently.  Skipper Tom and his passengers were captivated by watching an otter carrying a huge pike in its mouth recently "the pike was almost as big as the otter!" he said.
But perhaps the biggest surprise came when a very large dog otter slid out of the water and stood behind crew member Donna, while over 100 people were boarding the Queen of the Broads.  Skipper Oli said, "I looked up the pontoon where Donna was boarding customers and was amazed to see a huge otter stood right behind her.  Donna was completely unaware of the otter, like the classic scene in an pantomime and when I shouted 'its behind you' she jumped out of skin!".   It really shows how confident otters are becoming even with lots of people about.
Another welcome visitor to the Broads is common terns, who have been migrating in from Africa for the last few weeks.  More than 20 pairs of the terns are laying their eggs on a special floating platform filled with sand on Hoveton Great Broad.  Mooring at the nature reserve and visiting the tern colony is highly recommended but we are also spotting the birds fishing on Wroxham and Salhouse Broad.  They perform amazing aerial acrobatics before dive bombing into the water to catch their lunch.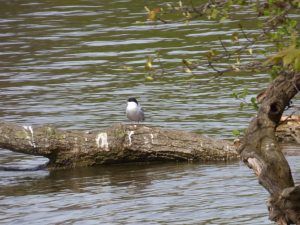 With so much to see out and about on the water we hope to see you soon!