Now is a delightful time to be out on the river as an abundance of young birds have hatched and are spreading their wings for the first time.
There seems to be Greylag geese with their very cute goslings everywhere – both through Wroxham village and further along the river.  Notably we have seen several families of Greylag geese out on the water together, with dozens of young all in one group. Greylag geese are very protective parents and this certainly seems to be paying dividends for the survival of their young.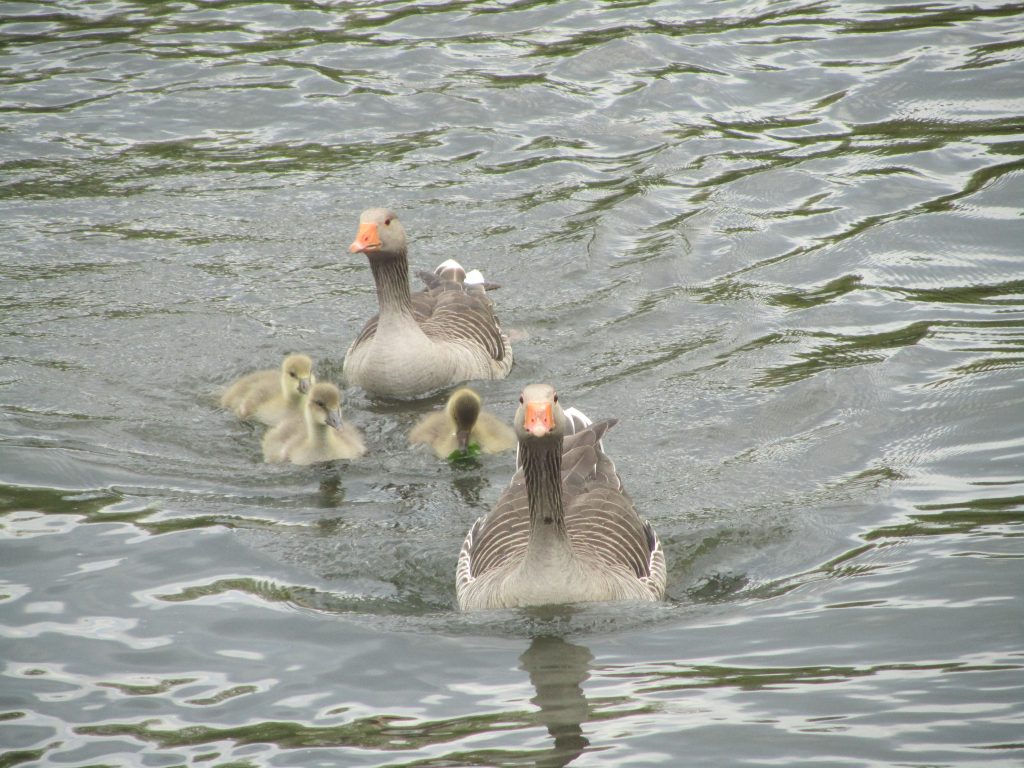 Another highlight is two pairs of swans, which are displaying territorially – swimming adjacent to invisible lines on the river and puffing themselves up  to warn off others.
Seven tiny cygnets have been riding on their mother's backs on the river in Wroxham. This delighted a party of school children from Hethersett, who we were taking out on a school trip to discover the Norfolk Broads.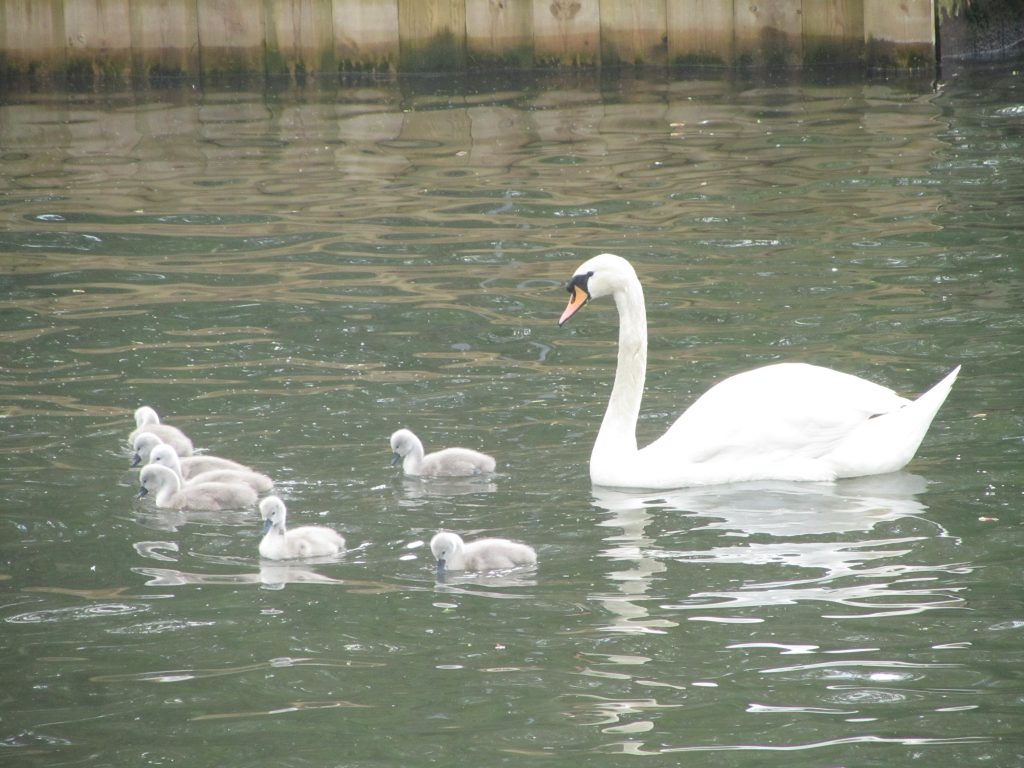 The first pair of grebes has successfully hatched their young on Salhouse Broad.  These elegant diving birds are well known for carrying their babies on their backs – which makes one of the loveliest of sights at this time of year.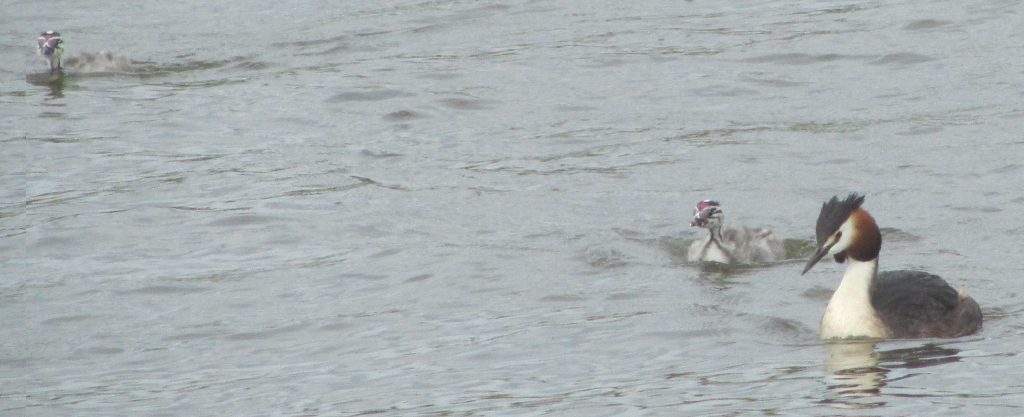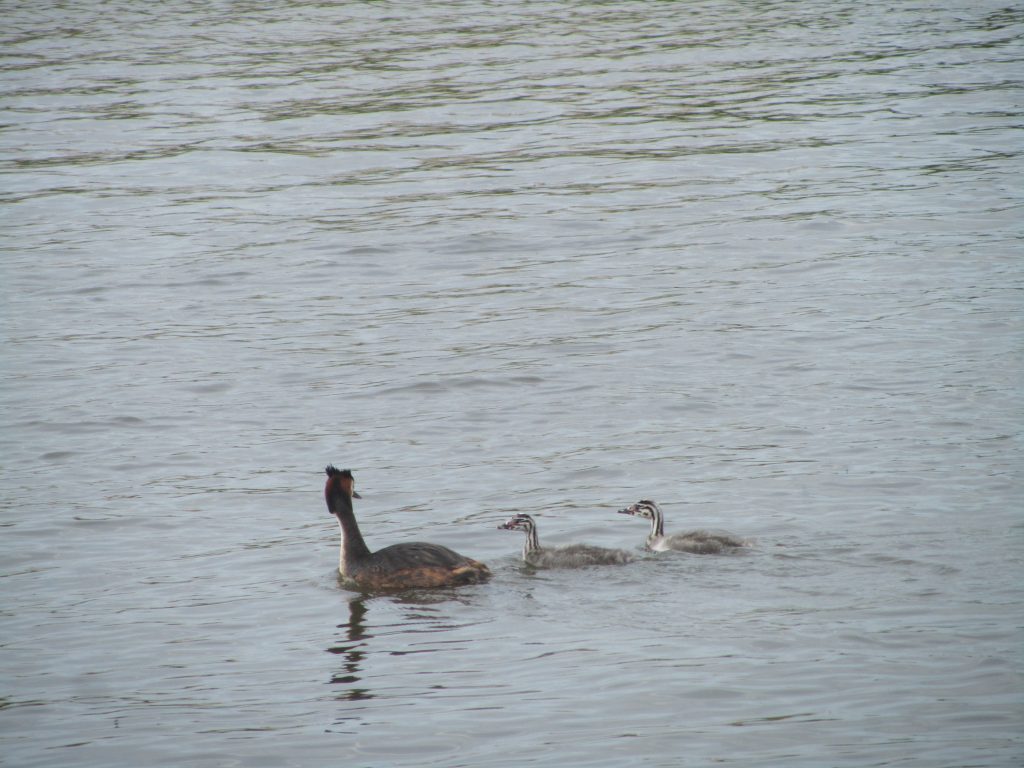 But the most remarkable sighting lately – which has certainly divided opinion among staff at Norfolk Broads Direct and Broads Tours – is an otter hunting Greylag Geese in the boat basin.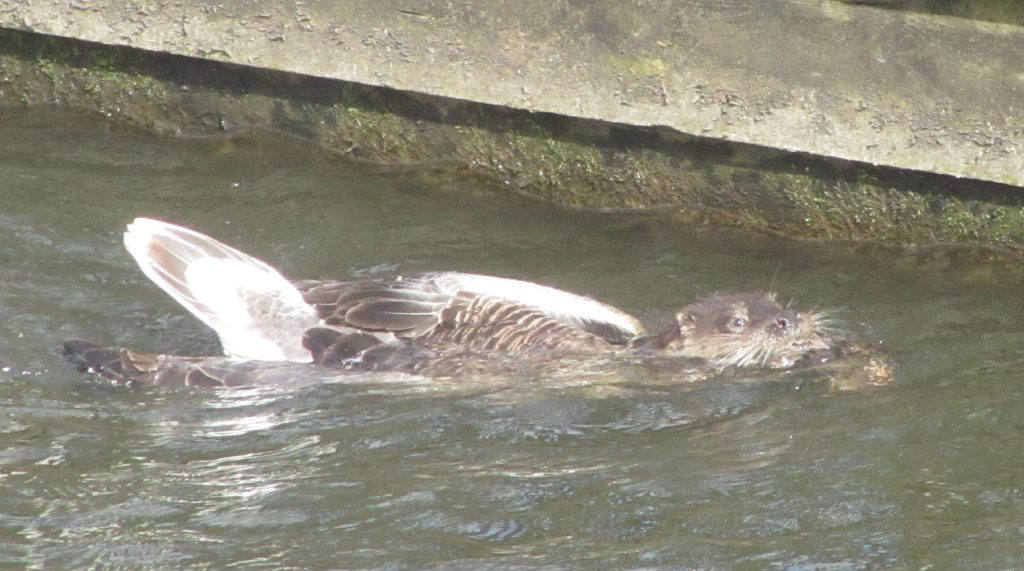 Last weekend I couldn't believe my eyes when an otter hunted and killed a full sized Greylag goose before dragging it under bank pilings to presumably feed its young.  I ran and grabbed my camera and took a video and pictures of the whole thing, which amazingly happened in broad daylight on a busy Saturday afternoon.  This was the second week in a row, in which it had displayed this remarkable behaviour.
It amazed me that an otter, which is usually such an elusive species, would reveal its self in such a busy place and secondly that it would hunt such large prey.  In the animal kingdom predators will usually select the most vulnerable prey to reduce the risk of injury and avoid wasting unnecessary energy.
When there are so many smaller birds and young on the river, not to mention an abundance of fish, it seems puzzling for an otter to attack a goose which is two thirds of its size.
As an ecologist I found watching this behaviour a remarkable experience, although many people at Broads Tours felt for the unfortunate goose.  At any rate it shows just how much otters are expanding their territories, how brazen they can be and what powerful predators they are.
You can watch the Oliver's video of the otter attacking the goose at the YouTube link below.  Please be warned that the video is an accurate account of an otter hunting a goose so do not watch it if you might find it upsetting. 
Remember, we would love to see your wildlife photos, so send them in with your name and they may feature on one of our nature blogs or on social media.  Simply send them to info@broads.co.uk or via Twitter @NBDWroxham or Facebook by searching Norfolk Broads Direct or Instagram norfolk_broads_direct.