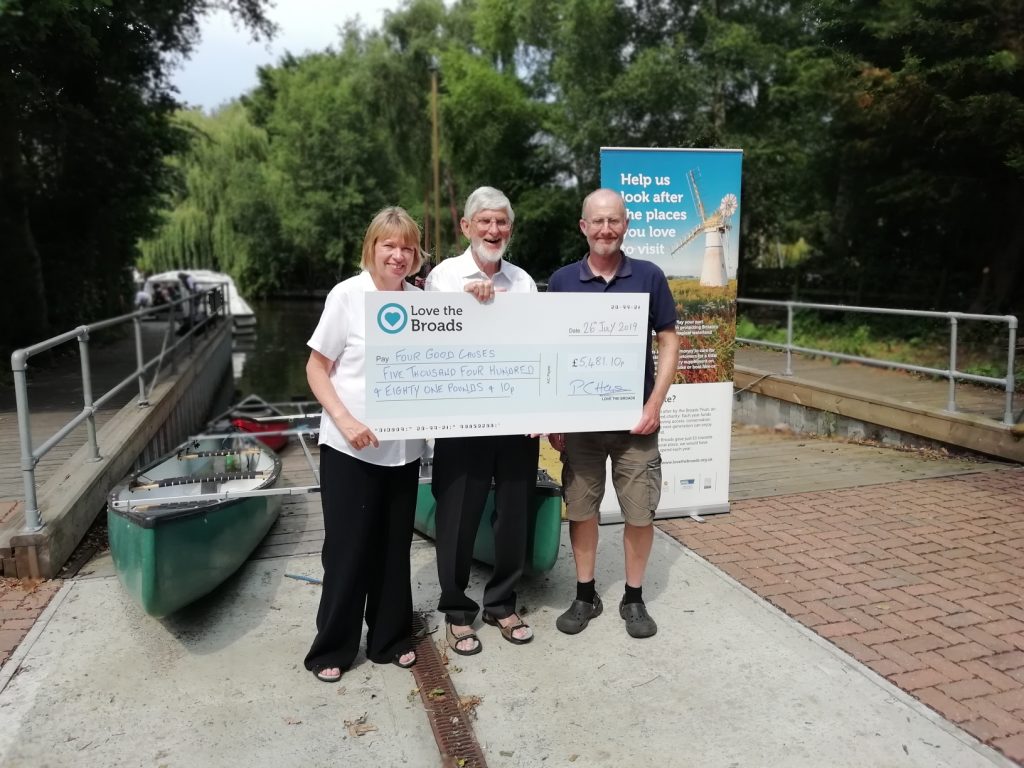 We were delighted to have attended the recent presentation of grant cheques awarded by the Love the Broads Visitor Gifting Scheme. The presentation was hosted by the Nancy Oldfield Trust based at Neatishead.
The Nancy Oldfield Trust is a charitable organisation that offers a Broads, water-based experience for disabled or disadvantaged people on board a fleet of accessible motorboats, sailing yachts and rafted canoes.
A new initiative that the trust has launched is called 'Well-Being on the Water', this initiative is aimed at people suffering from cancer or anyone receiving palliative care for any terminal condition.
This year we have chosen the Nancy Oldfield Trust as one of the organisations that we would like our 'Love the Broads' donations to go to.  A cheque was given to Stephen Bradnock, manager of the trust for £500.  This amount was to purchase a projector and screen to use for training for the 'Well-Being on the Water' campaign.  Barbara Greasley, Director of NBD said, 'We are so proud to support such a worthwhile project and would like to congratulate all members of the Nancy Oldfield Trust on the fantastic work that they do.'
At Norfolk Broads Direct we donate £1 per boating holiday that we provide during the main holiday season.  We have just received the certificate detailing our donations for 2018 of £1635.62.  This represents £1587 donated by us and the rest was from sails of badges and books around the site.
For more information on the Nancy Oldfield Trust and the Love the Broads Visitor Scheme please visit Nancy Oldfield Trust and Love the Broads