Eating Out on the Broads
Good places to eat on the Norfolk Broads
We've put together a list of some of the best places to eat on the Broads during your Broads holiday. For exact locations, see our Map of the Broads.
Key:
A – Real Ales
C – Carvery
GF – Gluten Free Options
L – Local Produce
R- Restaurant
T – Tea, Coffee, Cakes
V – Vegetarian Options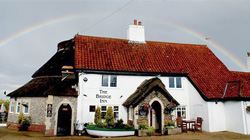 Acle
Bridge Inn (A,L,V)
Found in Acle, just by the Bridge (as you'd expect) you can moor outside and charges apply. Pets are welcome, pool table, WiFi and children's play area all on site. 01493 750288

Beccles
Waveney House Hotel  (R,V)
A restaurant serving local fish and meat with herbs grown in their garden. Moor up before Beccles New Bridge then walk through the town. 01502 712270
Baileys Delicatessen (R,V)
Quite a posh place with Spanish themed food. Moor up before Beccles New Bridge and walk through the town. 01502 710609
Twyfords (L, T)
Twyfords has been running for 2 decades in Beccles serving homemade food,  for breakfast, lunch, afternoon tea and dinner. 01502 710614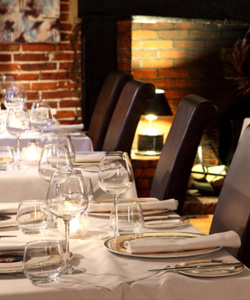 Brundall
East Hills Cafe Bistro (L,R,T,V)
A lovely cafe situated at the Brundall Bay Marina. Serving teas, coffees, sandwiches, afternoon tea, soups and evening meals. 01603 951850

Burgh St Peter
The Waveney Inn at The Waveney River Centre (A,L,V)
This pub, built in 1879, was once a popular stopping point for wherry men, back then it had a zoo in the rear garden! Now, it's part of the Waveney River Centre complex (moor here). Serving local ales and good, locally source, pub grub. 01502 677599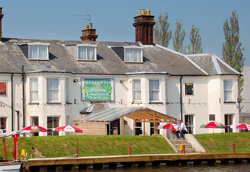 Cantley
Reedcutter Inn (A,V)
Moor up at free moorings outside, or Broads Authority moorings. Here you'll find free electricity hook up, water for £2, showers, toilets, provisions, fishing bait, Sky TV, darts, billiards and pool. They do also serve food and drinks! 01493 701499

Coltishall
King's Head (A,L,V)
You'll find one of the best Broadland foodie pubs 1hr 30mins by boat upstream from Wroxham in the village of Coltishall. Moor up at Coltishall Common and walk 2 minutes from there to the pub. It can get busy so best to book in advance. 01603 737426
Rising Sun (A,T,V)
This pub is located right next to the King's Head in Coltishall. It is a nice alternative with a lovely view of the river. No booking necessary for tables here. Moor up at Coltishall Common and walk 2 minutes to the pub. 01603 737440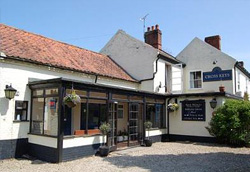 Dilham
Cross Keys Inn (A,V)
Tucked away at the end of the Ant is this lovely little pub, with £5 breakfasts! There is a small set of free moorings at Dilham Staithe, just a short walk away. 01692 536398

Geldeston
Locks Inn (A,L,V)
Great little pub at the end navigation, offering Friday Curry Night, Live Music and good atmosphere. Moor at Geldeston Lock. 01508 518414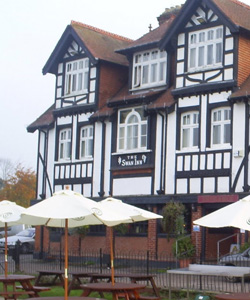 Horning
Swan Inn (A,V)
A lovely place to stop and sit outside in the summer and cosy in the winter months. Limited moorings available outside the pub. 01692 630316
Bure River Cottage (L,R)
This fish restaurant is a stone's throw from the Horning Staithe moorings. Only open in the evenings. 01692 631421
New Inn (A,GF,L,V)
You can moor up right outside this pub, although it is best to ring and reserve a mooring. Quiz night Friday, Curry night Tuesday, breakfast available. Lots going on here! 01692 631223
Ferry Inn (A,V)
Side on mooring right outside the pub, double moorings available when it's busy. It is possible to moor up opposite but only if you have a dinghy! 01692 630259
The Galley (L,T)
Look out for the famed 'Hornish Pasty'! Only a few minutes walk from Horning Staithe, Swan Inn or New Inn moorings.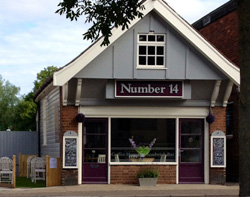 Hoveton
Number 14 (L,T)
Find this new little gem on the Hoveton side of Wroxham Bridge, serving fab looking cakes and Fairtrade coffee. Moor at Norfolk Broads Direct and walk 10 minutes or moor at Hoveton St John.

Loddon
Rosy Lee's Tearoom (L,T)
A popular local institution, running things how they should be run! Homemade cakes on offer with all day breakfast as well. Moor up at Loddon Staithe or either of the Loddon boatyards. 01508 520204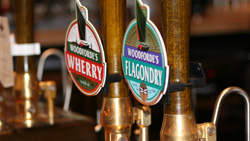 Neatishead
The White Horse Inn (A,C,L,V)
A real pub set in the heart of Broadland, with a good looking menu to boot. Moor up at Neatishead or Gaye's Staithe and walk for 5-10 minutes. 01692 630828

Oulton Broad
Quayside Bar & Restaurant (A,L)
A waterside offering for the family, with an easy to work children's menu and pool table. Moor at Oulton Broad. 01502 500895
Wherry Hotel (C)
Part of the Castle Carvery chain. Moor at Oulton Broad. 01502 516845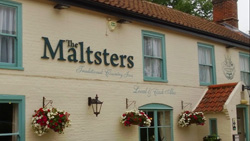 Ranworth
The Maltsters (A,V)
Get yourself moored up early at Ranworth Staithe in order to stop in at the pub or wander around the village. 01603 270900

Reedham
Ferry Inn (A,L,V)
Find this pub between Haddiscoe Cut and the Chet as you travel up the Yare. Moorings are available outside the pub for patrons. A £20 fee is charges which is refunded from deducted from the bill. 01493 700429

Rockland St Mary
New Inn (A,L,V)
Overnight moorings are available outside the pub. The food is pub classics with a twist! Limited takeaway menu also available. 01508 538211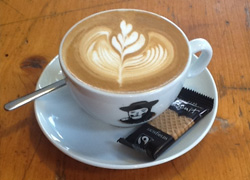 Salhouse
Salhouse Bell (A)
One of the older Broadland pubs, with a really cosy interior. Good value meals and real ales on tap. 30 minute walk from Salhouse Broad moorings. 01603 263819

Somerleyton
Duke's Head (A,V)
This gastro pub is a 5 minute walk from Somerleyton Staithe moorings. 01502 730281

South Walsham
Fairhaven Woodland and Water Garden (C,L,T,V)
Drop into this eco tearoom run by the Fairhaven Trust, before or after a walk around the gardens. An excellent choice of locally made cakes awaits you here, where gluten free and vegetarian options are prominent. 20 minute walk from moorings at South Walsham Fleet Dyke.
The Ship (A,L,V)
The closest moorings are about 30 minutes walk at Fleet Dyke. This pub is an independent family family run pub specialising in real food and real ale, dogs are welcome in the main bar area.  01603 270049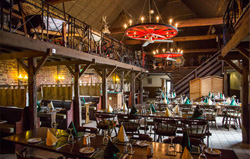 St Olaves
Priory Farm Restaurant (R,V)
Moor up downstream of the bridge and walk into the village to this little converted barn restaurant. 01493 488432

Stokesby
Ferry Inn (A,V)
You can moor up outside the pub or at the Broads Authority moorings. There's a games room at this family friendly pub with pool and darts. A good pub menu is on offer and Adnams real ales are served. Dog friendly. 01493 751096

Surlingham
Coldham Hall (A,L,V)
Moor up outside the pub (free for patrons, £10 otherwise), electricity is £5. Focusing on fresh and local produce, this thatched riverside eatery is well worth a visit. 01508 538366
Ferry House (A,V)
Free moorings outside this welcoming pub, for patrons. Families and dogs welcome. Typical pub fare on the menu, with reasonable prices. Breakfasts also available, booking necessary. 01508 538659

Upton
White Horse (A,C,V)
This community run pub was reopened in 2012 and serves a good menu of food with themed nights including: Curry & Quiz Night Tuesday, Steak Night Wednesday, Fish & Chip Friday and Sunday Roasts. You'll find WiFi alongside casked Real Ale. Moor up at Eastwood Whelpton boatyard, then walk for 10 minutes. 01493 750696

Whitlingham Country Park
Whitlingham Barn Cafe (T)
Moor up at the Whitlingham Country Park Broads Authority moorings then walk through to the cafe. Wide selection of cakes, sandwiches, pastries, ice creams and hot drinks. You can also make use of the Tourist Information available here.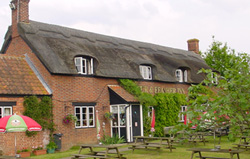 Woodbastwick
Fur & Feather Inn (A,L,V)
A very popular option for the Broads visitor; sample the real ales brewed next door at Woodforde's of Woodbastwick and tuck in to a sumptuous meal. 20 minute walk from Salhouse Broad moorings. 01603 720003

Woods End
Water's Edge (V)
This pub is situated on the edge of the river so you can watch the water skiers go flying by. Well known for it's link with Billy Bluelight, don't forget to get your picture taken with his statue outside! 01508 538005
Handy tip: Take a torch when visiting any of these eateries at night – the Broadland paths get quite dark and mischievous on the return journey!