Shop Local
As a family run, local business, we are huge believers in supporting local businesses and enterprises.
Help support our Broads economy by shopping local on the Norfolk Broads
There are some brilliant shops located around the Broads to help you stock up on your Norfolk Broads boating holidays. For more specific locations, you will find all of these shops on our Broads Map.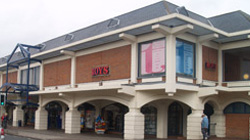 Wroxham
Roys of Wroxham
The World's Largest Village Store. Moor up at the Norfolk Broads Direct boatyard, then walk over the bridge where you'll find plenty of Roys shops. The Food Hall is more of a supermarket but they focus on sourcing locally where possible.

Horning
The Galley
Moor up at one of the pubs or at Horning Staithe then wander along the street to this lovely little delicatessen. You will also find a few small convenience stores in Horning too.

Neatishead
White House Stores
Community Interest Company. Lots of local produce here in this lovely Georgian village. Moor up at Neatishead or Gaye's Staithe.

Ludham
Thrower's
The closest mooring is Womack Water, but you could feasibly walk into Ludham village from Ludham Bridge or St Benet's Abbey. This is a mini supermarket with the heart of a traditional village shop.

Thurne
Ramblers Gallery and Gift Shop
Next to Lion Inn. Moor up at Thurne Dyke.

Burgh St Peter
Mariner's Store
Moor up at the Waveney River Centre and find the store as part of the Waveney River Centre Park. It has Lazy Jacks clothing as well as local produce.

Loddon
Bridge Stores
Moor up at Loddon Staithe at these Stern on moorings. Across the road is Bridge Stores. A little further up the main street you will also find a Co-Op.